Fixapox
2K COLORLESS EPOXY IMPREGNATION AND PRIMER
For preventive and curative use.
Strengthens weak surfaces prior to bonding.
Passivates rust.
Unique adhesion on metal, polyester, aluminum, galvanized sheet, wood, stone and concrete.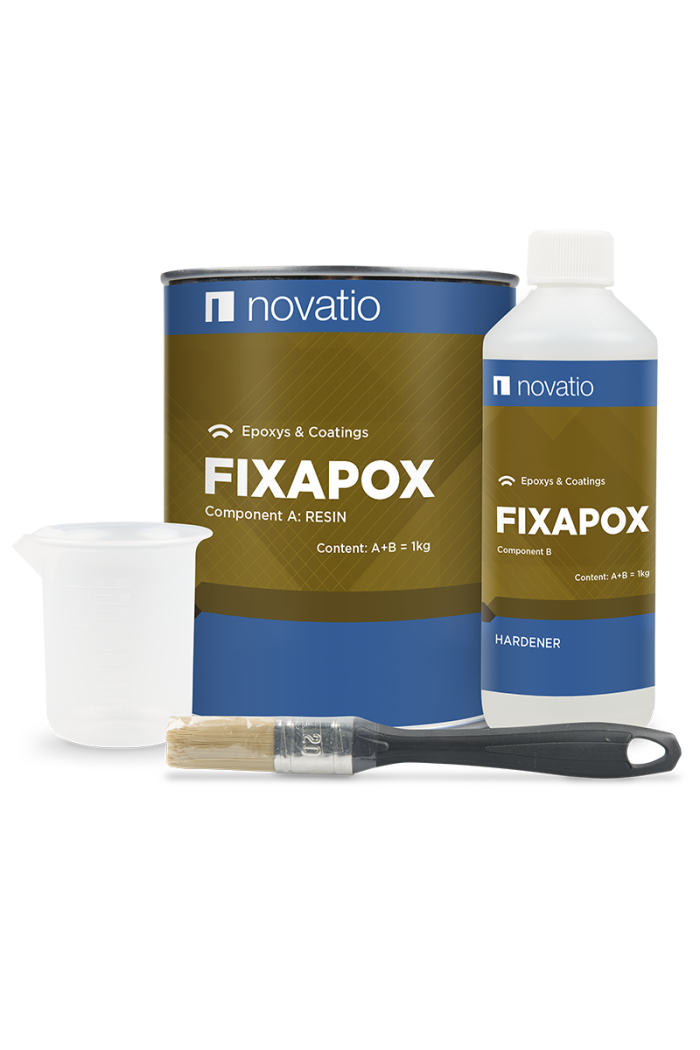 Packaging
631011000 - Fixapox - can 1kg
Description
An industrial 2-component deeppenetrating impregnating agent for the protection and handling of concrete, stone, wood and metals.
Hardens concrete floors, stone, cement coatings and makes them dustproof, more longwearing, easy to clean and chemical resistant.
A preventive and curative protection for both blank and rusty metals against corrosion, erosion and other chemical influences.
Penetrates deeply in rust and blocks, passivates and anchors this rust to the sound metal.
An ideal unsaponifiable adhesive primer for painting, mastics, joint kits, mending and other finishes.
Application
1-coating application gives a dust-free, longwearing and vapour permeable surface.
2-coatings application is fluid tight, vapour tight and gives resistance to oils, greases, petrols and chemicals.
Handling of floors in workshops, warehouses, stockrooms, halls, refrigerators, breweries, printers, paper mills, garages, chemical industry and plants, assembly factories (automobile, transformers, diecastinghalls,...), cowsheds, unloading quays and loading wharfs.
Because of its liquid tightness and chemical resistance pollution of the treated surfaces is avoided.
Concrete roadways, bridge flooring and weight bridges: protection against salts for thawing (1-coating application as outdoors application).
Handling of metal constructions and installations, handrails, fittings, reinforcing rod,... against chemicals and sea air.
To make walls or constructions in e.g. bricks, Ytong or plaster dust-proof.
Longwearing and hydrochloric resistant protective coating for concrete mixers.
Inhibits further silting up or degradations of treated surfaces.
Handling of concrete pipes, concrete wells against waste waters.
Adhesive primer for Seal&Bond MS60, Novabond 2, Nova Power Grip on porous surfaces (stone, gyproc, Ytong,...).
Technical information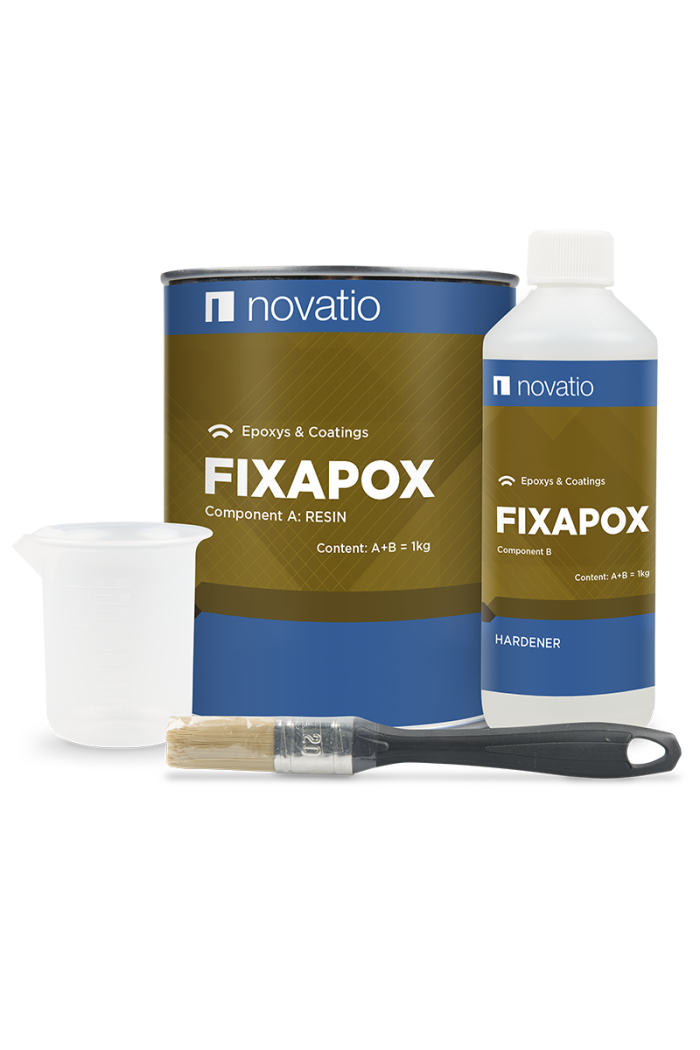 Fixapox
2K COLORLESS EPOXY IMPREGNATION AND PRIMER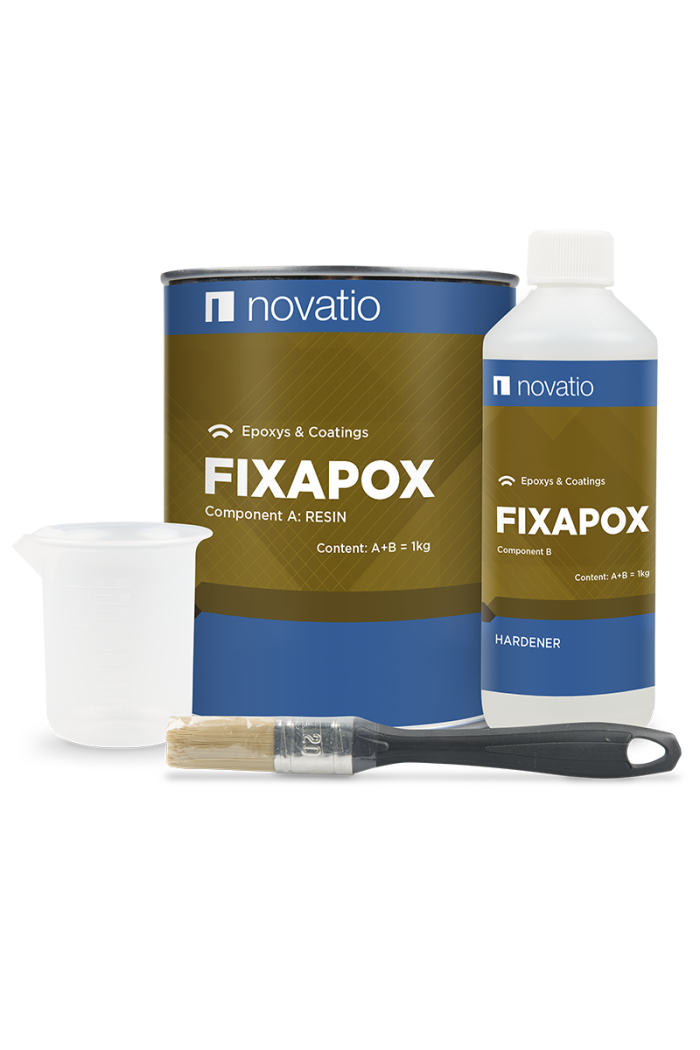 Composition: epoxy resin, polyamine hardener and selected solvents.
Colour: colourless; darkens the surfaces.
Solid material: ca. 75%.
Specific gravity: 1 +/- 0,1 kg/dm3.
Adherence: to wood, stone, concrete: the bonding system is stronger than the materials bonded together; to metals: > 2N/mm² depending on the preceding handling.
Duration of use after mixture (pot life): ca. 30 minutes at 15°C.
Drying times at 15°C: After ca. 12h (one night): can be walked on; after ca. 24h: mechanical chargeable load-bearing; after 7 days: chemical resistant.
Temperature resistance: permanently from -30°C to +55°C; accidentally 110°C; 200°C unloaded (form durability); dry-cleaning is allowed.
Chemical resistance: resists to acids, caustic solutions, oils, greases, petrols, salts and many solvents, manure, urine,...; is resistant to aggressive gasses, vapours and sea air.
Shelf life: 12 months, keep dry, cool and frost-proof.
Safety measures: consult the Safety Data Sheet.
Instructions
Pour the hardener (component B) completely to the resin (component A).
Shake thoroughly until obtaining a homogeneous mixture.
Pour into a clean pot and mix well again.
Use the measuring cup supplied for a mixing ratio of component A: 7 parts and component B: 3 parts.
Mix well until obtaining a homogeneous mixture.
Apply on a clean, dry and stable surface.
If necessary, apply a second coat after 1 hour (on porous materials).
Clean tools with Poxy DC.
Can be processed for 30 minutes after mixing at temperatures up to + 20 ° C.
Higher temperatures reduce the working time considerably.
Protect from rain and moisture for 24 hours after application (at 20°C).
Consumption, depending on the porosity of the substrate: first layer: 300 ml / m² and second layer: 250 ml / m². For an even better impregnation of the first layer dilute to a maximum of 10% with Poxy DC.
As primer and substrate reinforcement always apply 2 layers.
Does not adhere to smooth surfaces and plastics and discolours by UV light.
Paintable with most lacquers and paints after a maximum of 7 days, if longer, first roughen mechanically or etch chemically. Walkable and dust-dry after ± 12 hours at + 20 ° C. Chemically chargeable after 7 days at + 20 ° C. Minimum processing temperature: + 5 ° C.
Novatio epoxy and adhesives can even be applied to Fixapox wet-on-wet.