AFX-150 Al-Fix 2K
FILLING CA GLUE
Filling capacity up to 5 mm.
Fast and uniform curing.
Also for vertical use.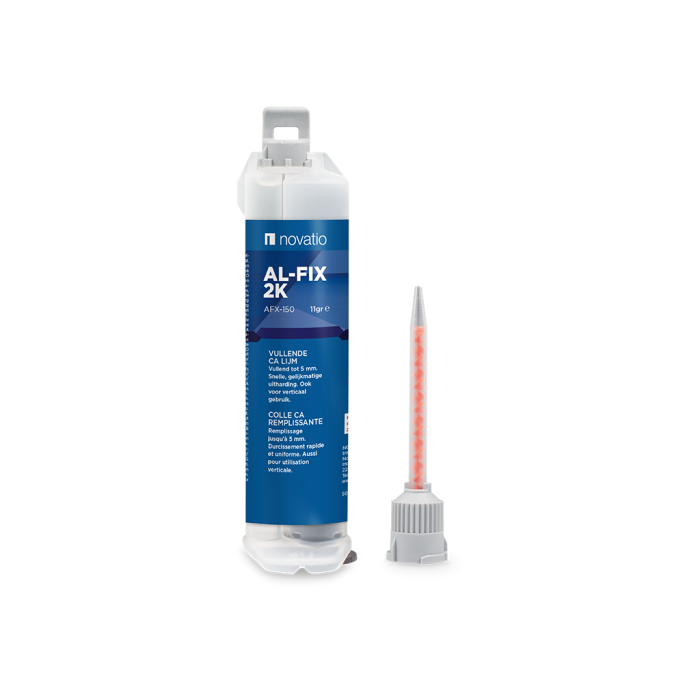 Packaging
501211000 - AFX-150 Al-Fix 2K - 11gr
501220390 - tip AFX-150 Al-Fix 2K - 12pcs
Description
Al-Fix 2K is a multifunctional 2-component cyanoacrylate adhesive which, thanks to its gel form, can also be used vertically without flowing. Using the fine mixing nozzle, Al-Fix 2K can be precisely dosed and applied.
Application
Excellent adhesion to various substrates such as metals, many plastics, rubber, wood, paper, ... .
For applications with a variable bond gap up to 5 mm.
For applications where complete curing of the excess adhesive is required.
Technical information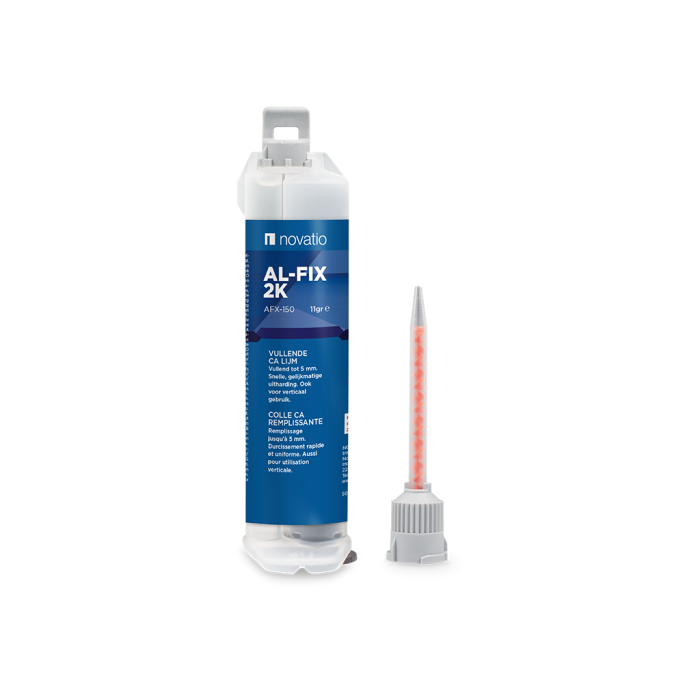 AFX-150 Al-Fix 2K
FILLING CA GLUE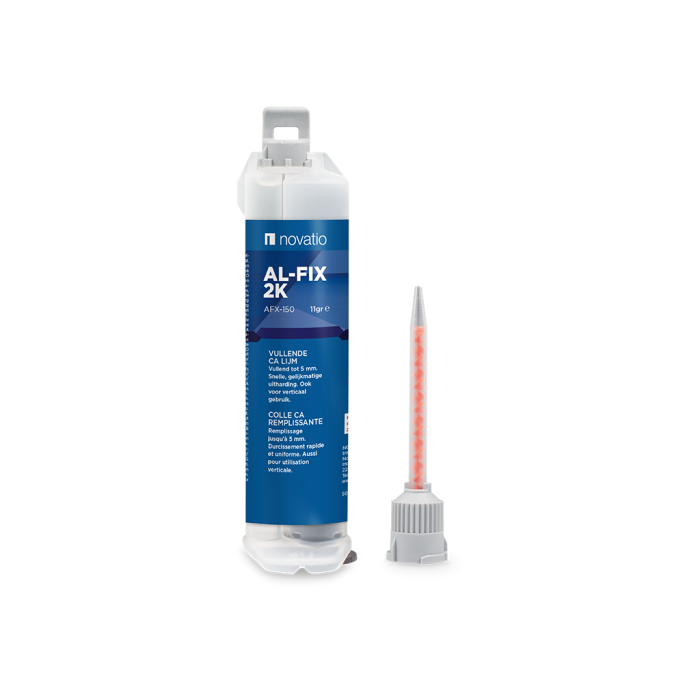 Composition: cyanoacrylate, 100% solid.
Colour: transparent.
Can be painted: yes.
Filling capacity: up to 5mm.
Curing time: 3 min. Higher temperatures accelerate curing.
Hardness: 56 shore D.
Modulus 100%: high (>1 MPa).
Processing temperature of adhesive and substrate: min+5°C and max +40°C.
Chemical resistance:

poor: acids, alkalines and water
medium: solvents
good: oil

Temperature resistance: between -10°C and +40°C (peaks up to -40°C and +100°C).
Shelf life: 9 months, stored between 2° and 10°C. Higher temperatures reduce the shelf life.
Instructions
Remove the caps from the cartridge, insert the stem and level the components.
Attach the mixing tip and squeeze out 2 cm of product to ensure proper mixing.
Apply to a clean, dry surface. If necessary, clean with Safety Clean and/or Multifoam.
After an interval of 2 minutes, use a new mixing tip.
For storage: remove the mixing tip, clean the outlet and close with the cap.
No adhesion to LSE plastics. In case of doubt, test for adhesion first.
Pretreatment with Silfix Primer can improve adhesion on difficult plastics.