Nova PTFE Oil Ramen en Deuren
HIGH-TECH PTFE LUBRICANT
Cylinder locks
Door locks
Window and door hardware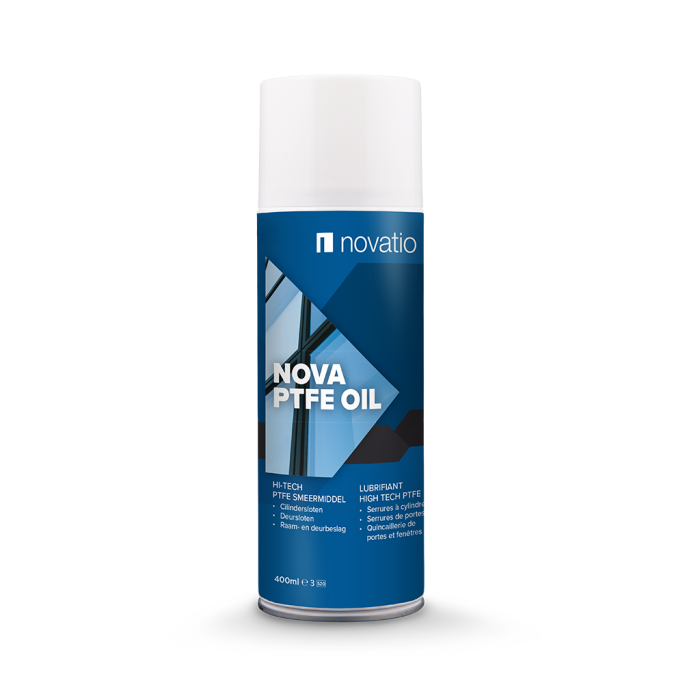 Packaging
231131116 - Nova PTFE Oil Ramen en Deuren - aerosol 400ml
Description
Lubricant filled with round micronized PTFE (Poly Tetra Fluor Ethylene) particles that act as good-adhering, filling ball bearings in the lubricating film.
Extends lubrication intervals and ensures professional and unique lubrication at high (250 ° C) and low (-50 ° C) temperatures.
Does not dry, does not melt or freeze and has water-repellent properties.
Has a strong penetrating capacity, even in rust and loosens stuck parts. The product is neutral, protective and anti-corrosion and prevents wear and is suitable for both heavy loads and fine mechanisms.
Has a neutral pH value and does not affect plastics, metals or rubbers.
Application
For hinges of sliding glass walls (outdoor), roller shutters and garage doors
Lubrication of hinges and window fittings such as: lubrication of turn-tilt systems, lock and cylinder lubrication, long service life without seizing, lubrication of rails and guides.

Technical information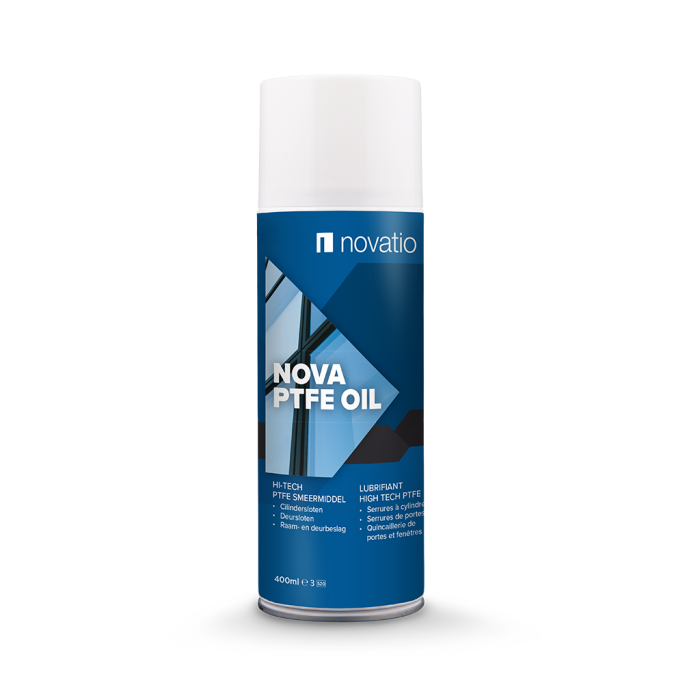 Nova PTFE Oil Ramen en Deuren
HIGH-TECH PTFE LUBRICANT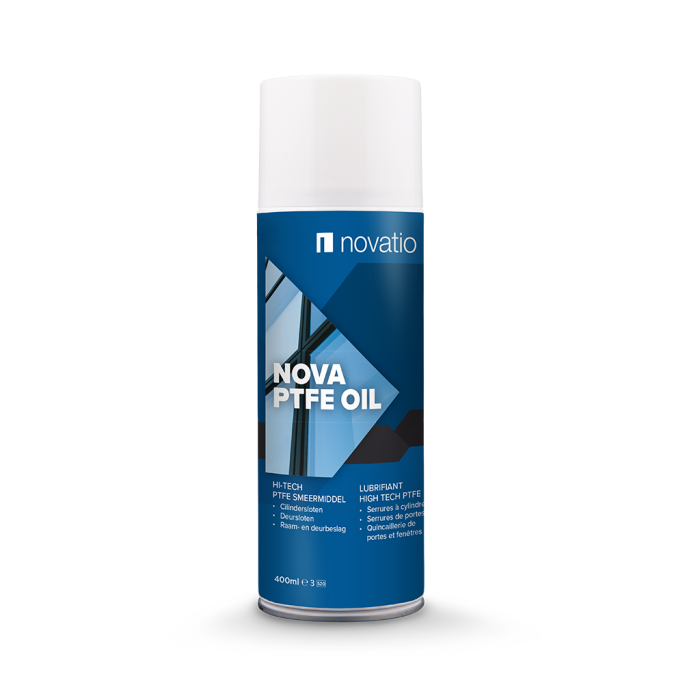 Composition: high quality mineral oil and 5-microns PTFE-grains; contains EP (Extreme Pressure)-additives and anticorrosive and water-resistant components, contains no silicone.
Viscosity: a little thixotrope.
Colour: transparent/ white.
Application temperature: -50°C to 250°C.
4 Ball EP-Test (ASTM D 25%): 350 kg.
4 Ball Wear-Test (ASTM D 2266): < 0,4 mm.
pH: neutral.
Chemical resistance: resists to salt, aggressive vapours, sea air and weather influences; resists to weak acids and caustic solutions.
Shelf life: 120 months, keep dry, cool and frost-proof.
Specific technical information for each packaging: please consult the safety data sheet.
Instructions
Shake well before use.
Apply on a clean surface.
Use the extension pipe for inaccessible applications.