Fa Clean Ramen en Deuren
CLEANER FOR ORGANIC SOILING
Foamy for surface cleaning and/or vertical applications.
Liquid for in-depth cleaning.
Abrasive-free, and therefore safe on all materials.
No need to rinse off.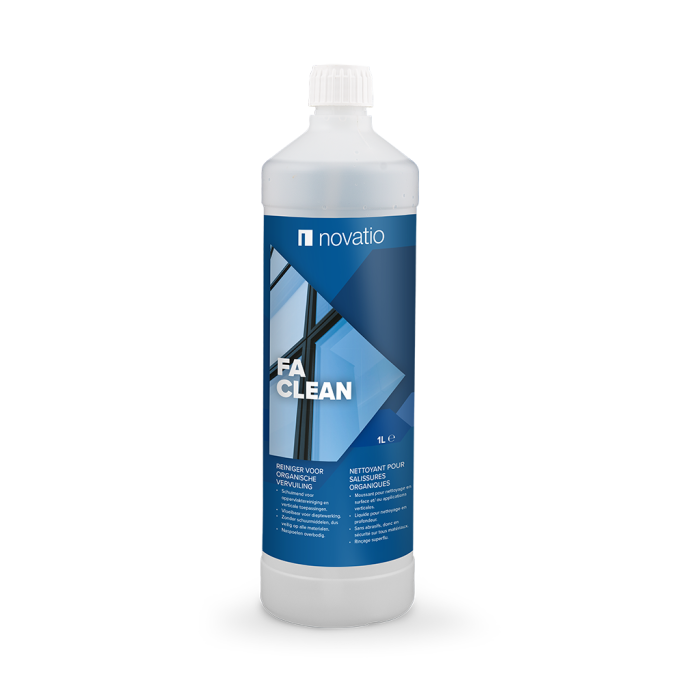 Packaging
482527116 - Fa Clean Ramen en Deuren - botlle 1L
482528116 - Fa Clean Ramen en Deuren - bottle 200ml
Description
Safe cleaner for most materials. Can be applied as foam for surface cleaning and vertical applications and liquid for depth treatment if required.
Safe for most materials and easy to apply in foam or liquid form.
Does not contain abrasives and won't leave any marks or streaks.
Application
For the removal of natural residues such as: nicotine, soft drinks, insects, grease, dirt, light resins and even shoe polish and rubber stripes.
Technical information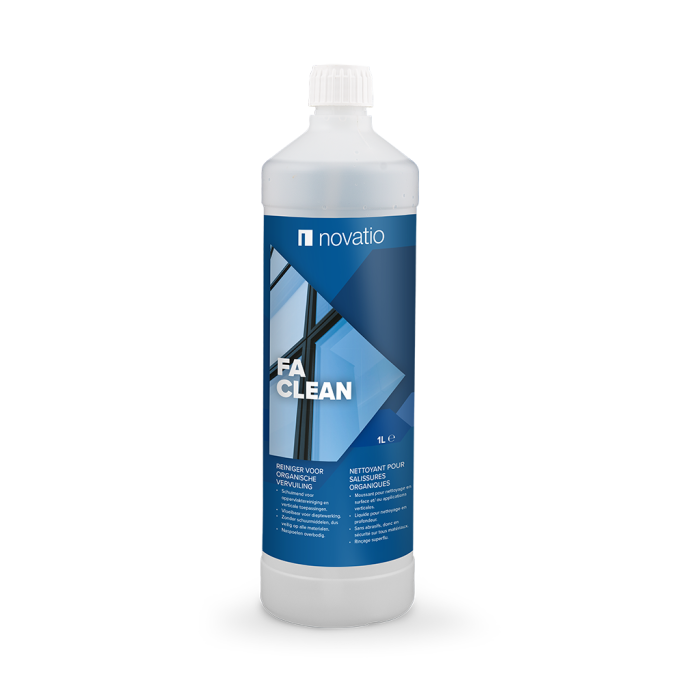 Fa Clean Ramen en Deuren
CLEANER FOR ORGANIC SOILING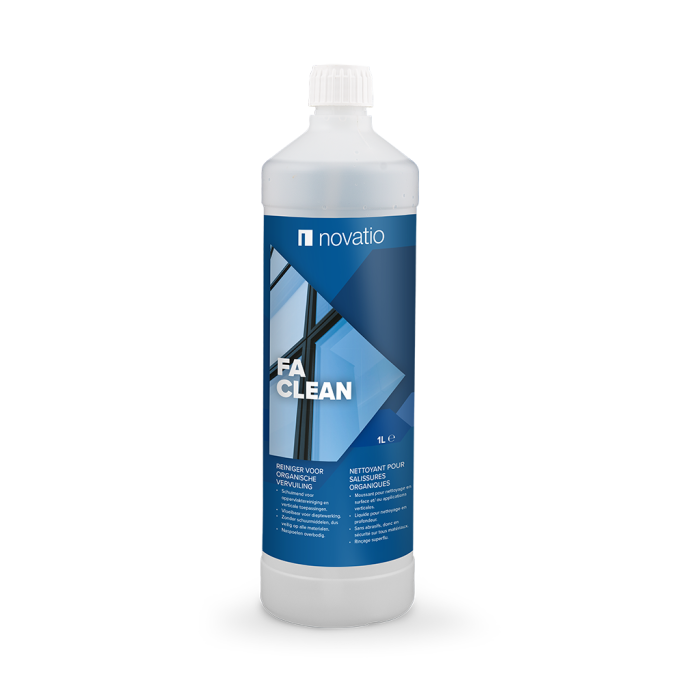 Base: cleaning agent, alcohol, additives, fragrance and demineralised water.
Odour: characteristic.
Colour: transparent.
Water solubility: entirely soluble.
Relative density at 20°C: 1.001.
pH: 11.
Vapour pressure at 20°C (hPa): 43.
Volatile Organic Compound (VOC): 82.252 g/L.
Shelf life: keep dry, cool and frost-proof

1L = 24 months;
5L = 36 months.

Safety measures: please consult the Safety Data Sheet.
Instructions
Foaming action: fit the trigger with extension tube on the bottle.
Liquid: fit the other nozzle.
Spray on the surface.
Give it time to act depending on the soiling.
Wipe off with a clean cloth.
Finish with a dry cloth.
For best results on smooth surfaces use Novawipe Microfibre. For extreme soiling on textile use Novakleen. Use the Novatio Pressure Bottle to treat expansive surfaces.