Q-Fix 120
SUPERSTRONG AND SUPERFAST CHEMICAL ANCHORING
Both in dry and moist drill holes, even under water, even up to -5 ° C.
Exceptionally chemical and UV resistant.
Anchors in both full and hollow bricks, concrete blocks, Ytong, ....
Extremely long shelf life, even opened.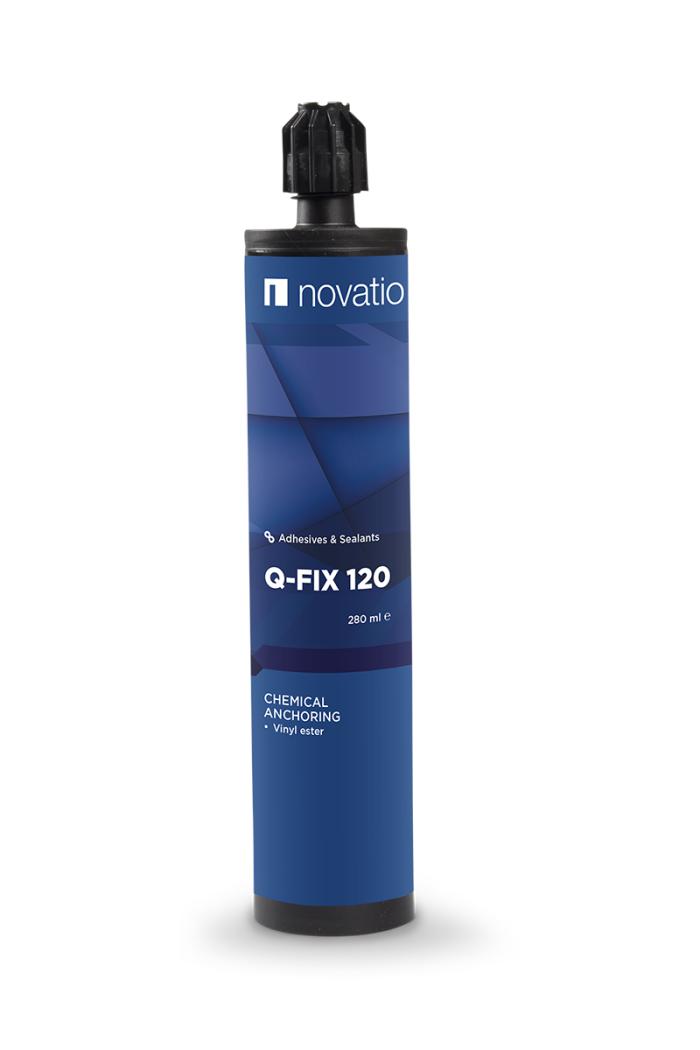 Packaging
610128000 - Q-Fix 120 - cartridge 280ml
Description
Q-Fix 120 has been specially developed for heavy load bearing chemical anchors in hollow and solid materials such as stone, concrete, aerated concrete, ... . Q-Fix 120 is a waterproof, impermeable attachment. Q-Fix 120 is a vinyl ester resin that has the best mechanical characteristics and offers better chemical resistance. Q-Fix 120 also has all of the required permits: the European Technical Approval (ETA/CE) option 7 for uncracked concrete and fire class F120.
Application
chemical anchoring
mounting rails, fences, masts, antennas, sun shields, roll-down shutters, lift casings, heating and cooling systems,... by using anchored wire rods, hooks, bolts, hinges, profiles,...
Technical information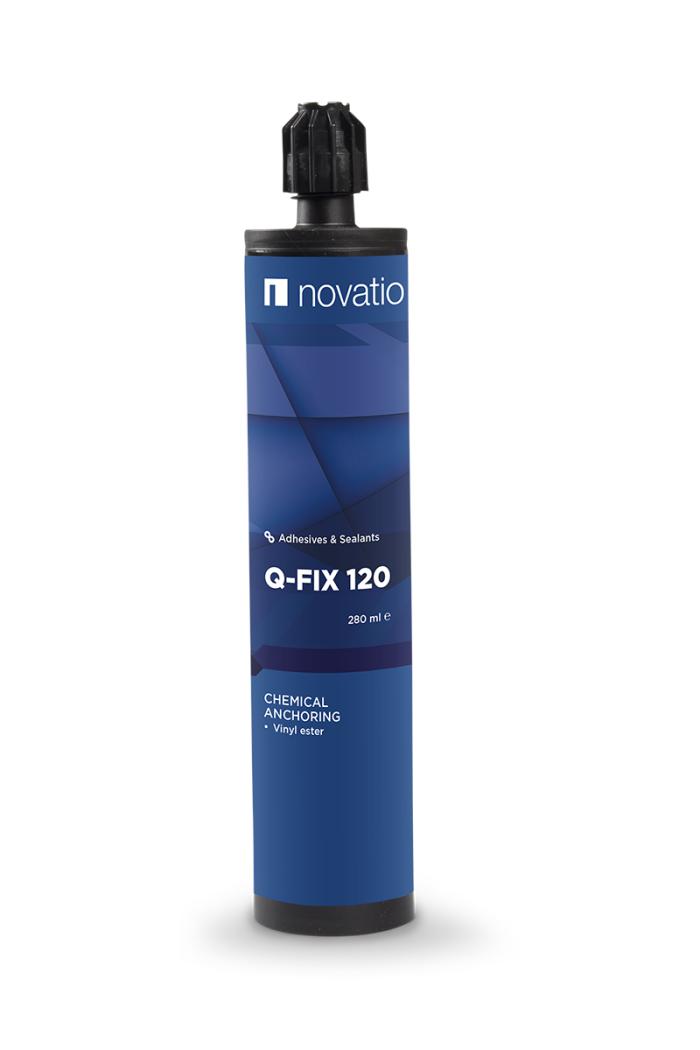 Q-Fix 120
SUPERSTRONG AND SUPERFAST CHEMICAL ANCHORING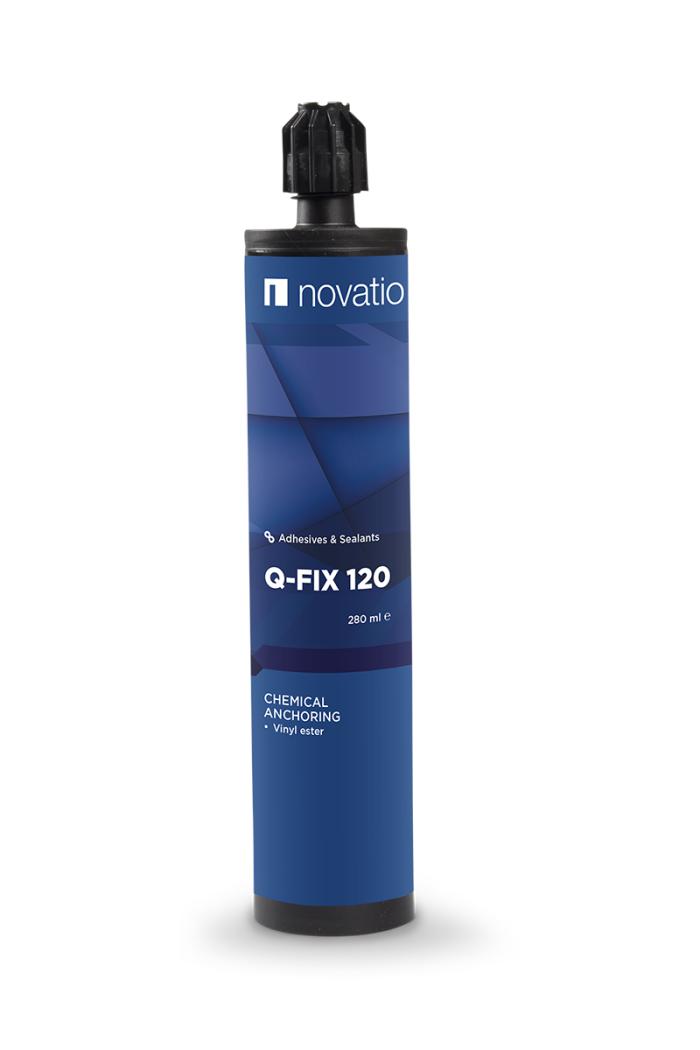 Basis: vinyl ester resins.
Colour: grey.
Odour: weak odour, styrene-free.
Application temperature of the cartridge +/- 20°C.
Temperature resistance after complete hardening: from -40°C to +80°C, with peaks up to +120°C.
Storage: 5 to a maximum of 25°C. Certificates: F120 and ETA.
Adhesion: very good adhesion on all porous materials; less good to poor adhesion on smooth surfaces.
Shelf life: 18 months, keep dry, cool and frost-free
Safety measures: consult the Safety Data Sheet.
Instructions
Drill holes according to the table.
Ensure the holes are dust free using a brush or Novair.
Use the cartridge at room temperature.
Screw the mixing tip on the cartridge and spout out 10 cm before use.
In solid stone:
Fill the borehole from back to front.
In hollow stone:
The harpoon plug increases efficiency and reduces consumption when anchoring in hollow materials.
Glass fabric such as Nova Powergrip reinforcement fabric is a convenient alternative: turn the fabric up to the desired diameter, slide it into the borehole and fill it from the back to the front.
Insert the threaded rod into the hole with a slight twisting motion.
Smooth excess product or let it harden and remove it with hammer and chisel later on.
Storage options:
1. Remove the mixing tip and thoroughly clean the cartridge. Close the cartridge again with the corresponding screw.
2. Leave the mixing tip on the cartridge. A new mixing tip can simply be mounted next time you need to use the cartridge.