MSU-1136 MS Ultra Fastbond 2K
ULTRAFAST 2K CONSTRUCTION ADHESIVE
Hand-tight after 30 minutes.
Fast curing to the core, even in extremely thick layers.
High tensile strength, UV and weather resistant.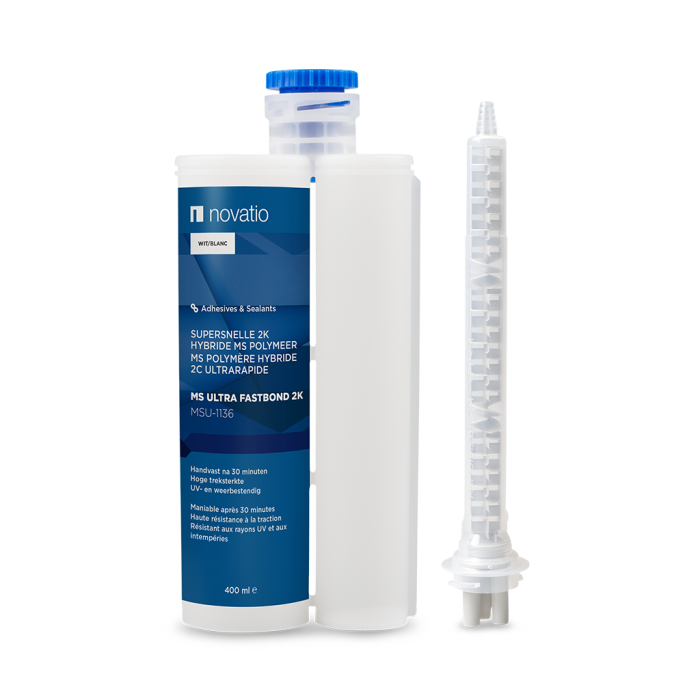 Packaging
526326000 - MSU-1136 MS Ultra Fastbond 2K white - cartridge 400ml
526327000 - MSU-1136 MS Ultra Fastbond 2K black - cartridge 400ml
Description
Ultrabond 2K is a 2-component system for bonding and sealing. Ultrabond 2K has a very fast internal polymerisation without shrinkage and meets the highest and most recent norms for garage, industry and bodywork repairs. Ultrabond 2K is UV- and weather- resistant, does not get mouldy and is odourless. Ultrabond 2K adheres to most current materials: varnished and galvanized surfaces, ferrous and non-ferrous metals, steel, aluminium, lacquer, varnish, polyester, wood and most synthetic materials. Ultrabond 2K can be re-used after opening.
Application
Automotive:
bonding and sealing of spoilers, body kits, construction sills,...
ideal for the mounting of cargo platforms and side walls of refrigeration cars, delivery vans,...
replacing roof sheets.
bodywork parts with a covering function can be glued. This is in conformity with the GOCA standards of the car inspection PL002-06 under notion III.

Industry:
fast gluing of bullet-proof glass
bonding of mirrors, natural stone, plexiglass, lacquered surfaces, polycarbonate, acrylate, without corrosion or formation of stains
gluing of stainless steel kitchens, bathrooms and industry
Technical information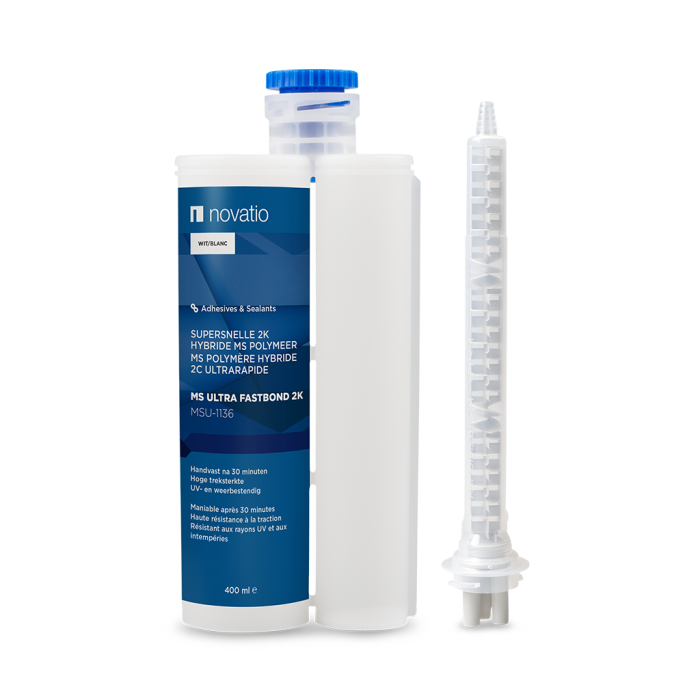 MSU-1136 MS Ultra Fastbond 2K
ULTRAFAST 2K CONSTRUCTION ADHESIVE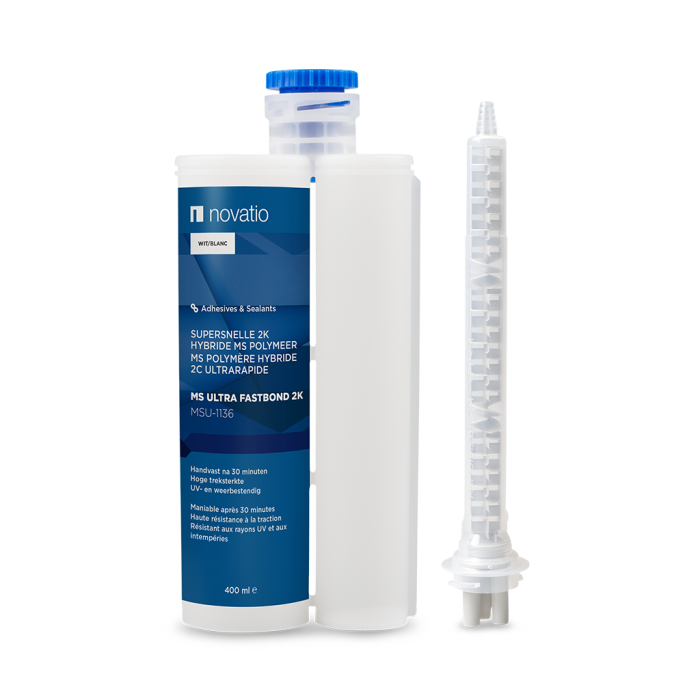 Basis: 2K MS hybrid polymer.
Hardening: hardening by reaction with a catalyst.
Consistency: paste.
Processing temperature: between +5°C and +35°C.
Temperature resistance: from -40°C to +90°C.
Skin formation: 15 minutes.
Curing: 24h (maximum strength after 7 days).
Tensile strength:

after 1h: 5 kg/cm².
after 3h: 11 kg/cm².
after 24h: 21 kg/cm².

Elongation at break: >500%.
Shelf life: 15 months, kept cool and dry in original packaging.
Safety measures: please consult the safety data sheet.
Instructions
Remove the cap, fit the mixer tip and spray out 5 cm until a homogeneous colour is obtained.
Apply to a clean and stable surface, if necessary clean with Safety Clean and/or Multifoam.
Replace the mixer tip after 20 minutes of inactivity.
Remove the mixer tip after use and store the cartridge with the cap.
When using a pneumatic pistol: only with telescopic pistons.
After 30 minutes the adhesive is hand-tight and ready for further processing or installation.