MSF-1145 MS Fastbond 1K
HYBRID MS POLYMER ADHESIVE
Low stress bonding
Room temperature cure
High tensile strength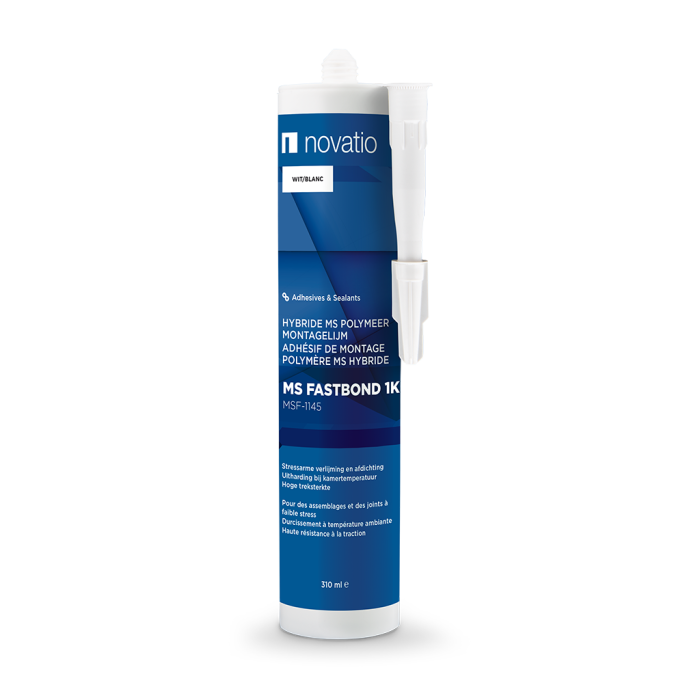 Packaging
530010000 - MSF-1145 MS Fastbond 1K anthracite - cartridge 310ml
530020000 - MSF-1145 MS Fastbond 1K white - cartridge 310ml
Description
Fastbond is a one component hybrid MS polymer adhesive for applications where high bond strength is required. The material combines high bond strength with very high flexibility and stress absorption.
Fastbond allows bonding of different materials such as metals, engineering plastics and glass. The flexibility of Fastbond enables low stress bonding of dissimilar materials.
Fastbond is safe in use and silicone free.
Application
Structural assembly where high strength and low stress bonding are key requirements. Fastbond will develop strong and reliable bonding between a variety of materials. In combination with Seal & Bond Special Primer bonding to polyethylene (PE/HDPE) and polypropylene (PP) becomes possible.

Technical information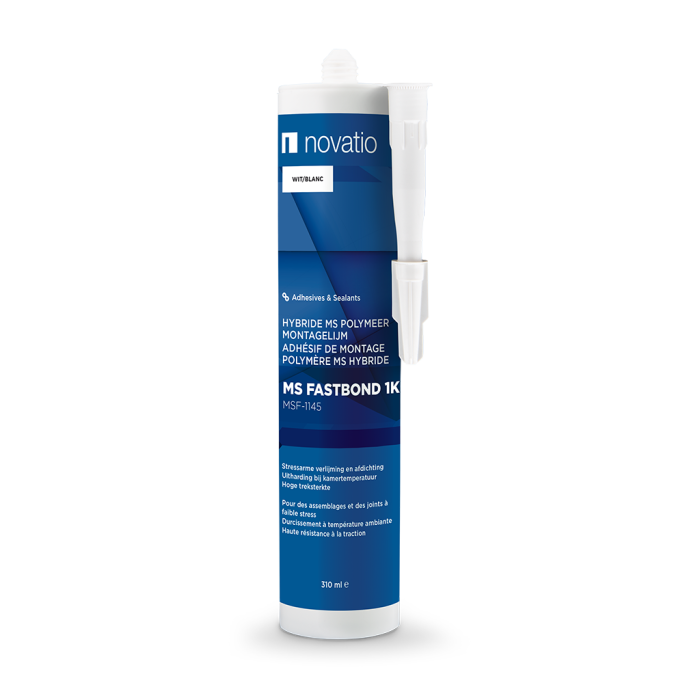 MSF-1145 MS Fastbond 1K
HYBRID MS POLYMER ADHESIVE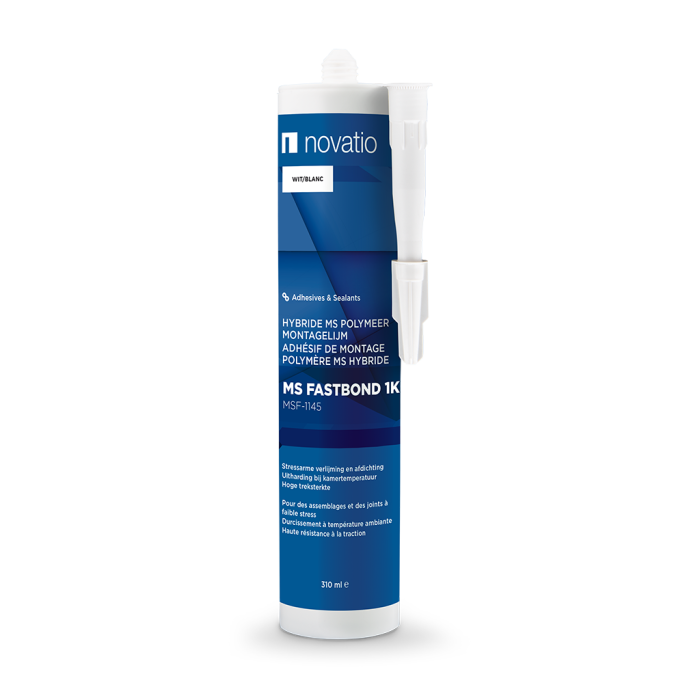 Composition: moisture-curing hybrid polymer.
Appearance (WL-M020): white paste.
Viscosity (WL-M002 - 23°C, 10s-1): 136 Pa.s .
Hardness (WL-M001): 45 shore A.
Tensile strength (WL-M009): 43,1 kg/cm².
Elongation at break (WL-M009): 310%.
Shear strength (WL-M013 Steel): 39 kg/cm².
Shear strength (WL-M013 PA6.6): 30 kg/cm².
Operating temperature (WL-M013): -50°C to 90°C.
Hand tight: after 6h.
Curing time (depending on the materials bonded) and shear strength on steel:

After 24 hours: 17 kg/cm².
After 7 days: 39 kg/cm².

Shelf life: 12 months in original package between +5°C and +25°C and not exposed to moisture and sunlight.
Instructions
Ensure that the components to assemble are clean. If necessary use Safety Clean (chemical pollution) or Multifoam (natural contamination) to clean the materials.
Difficult to bond materials can benefit from Seal & Bond Special Primer to improve the bond strength. Spray Seal & Bond Special Primer on both substrates and allow to dry for 5 minutes before applying Fastbond.
Maintain an adhesive thickness of minimum 0.5mm and a maximum 3mm. A thinner joint will result in faster strength build-up.
After bonding the parts together ensure that the assembly stays in place for a least 6 hours.
Maximum strength will be achieved after 7 days.