FCP-110 FP Construct
1K HYBRID MS POLYMER ADHESIVE
Corner bonding of window and door profiles.
Hand-tight after 3 hours.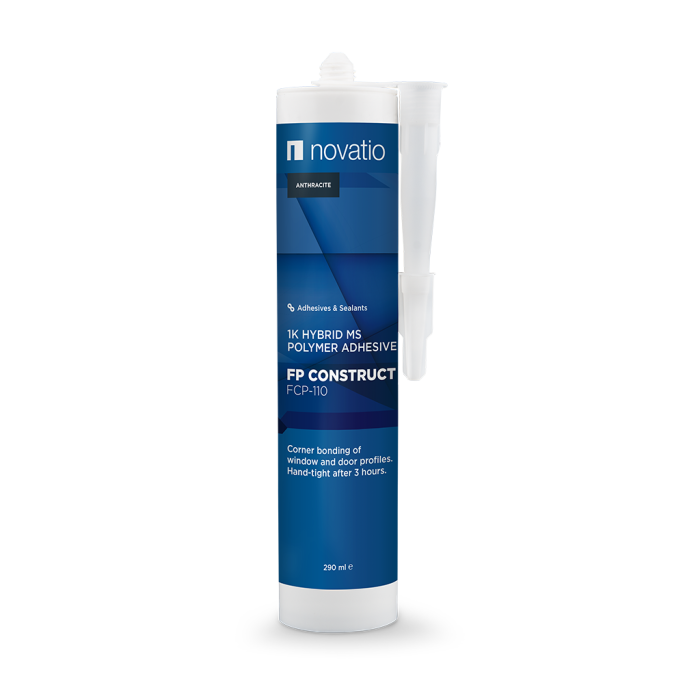 Packaging
527106116 - FCP-110 FP Construct Ramen en Deuren anthracite - cartridge 290ml
Description
Contains no isocyanates, is free of known toxic substances and is non-corrosive. Safe on all wet paints, powder and structural coatings. Fast and high power build-up, good adhesion to aluminium alloys. The rigid connections reduce vibration and contact noise.
Application
Bonding of crimp corners in window and door profiles.
Technical information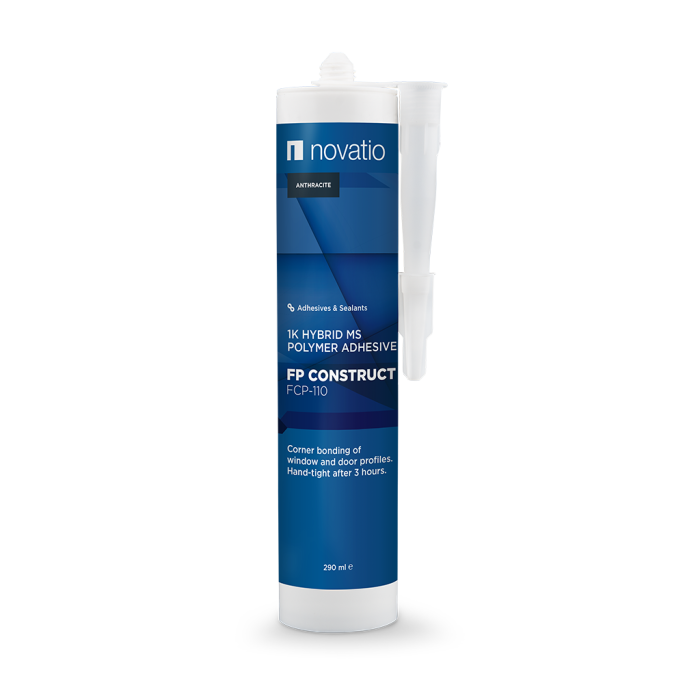 FCP-110 FP Construct
1K HYBRID MS POLYMER ADHESIVE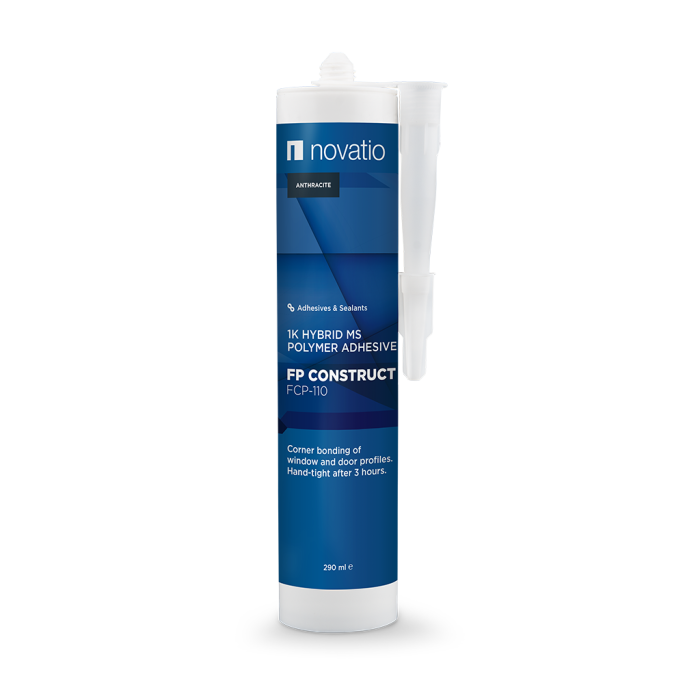 Basis: 1K MS hybrid polymer.
Hardening: hardening by reaction with air humidity.
Consistency: paste.
Colour: light grey.
Processing temperature: between +5°C and +35°C.
Temperature resistance: from -40°C to +90°C.
Skin formation: 2-5 minutes.
Curing (in miter): 24h (maximum strength after 7 days).
Tensile strength without MGM-170: After 3h: 0.3 N/mm².
After 24h: 1.4 N/mm².
After 7 days: 2.0 N/mm².
Tensile strength with MGM-170:

after 3h: 0.7 N/mm².
after 24h: 1.8 N/mm².
after 7 days: 2.0 N/mm².

Elongation at break: >200%.
Shelf life: 12 months, kept cool and dry in original packaging.
Safety measures: please consult the safety data sheet.
Instructions
Clean if necessary with Safety Clean and/or Multifoam.
Optionally: apply MGM-170 as a booster for faster force build-up and guaranteed curing. Lightly mist the chambers of the crimp corners or moisten the crimp corners with MGM-170.
Apply FCP-110 FP Construct in the chambers.
Place the crimp corners and assemble the window.
Remove excess product, press the corners and clean the mitres immediately with Safety Clean.