Thermoflux 2010
BLACK, DOUBLE WALLED SHRINK SLEEVE
Cadmium free.
The outer wall shrinks and adapts to every shape.
The inner wall melts and glues the connection, making it strong and perfectly waterproof.
Excellent resistance to corrosion, UV, water, chemicals and acids.
Can be used directly on copper.
Durable, flame-resistant and permanently flexible.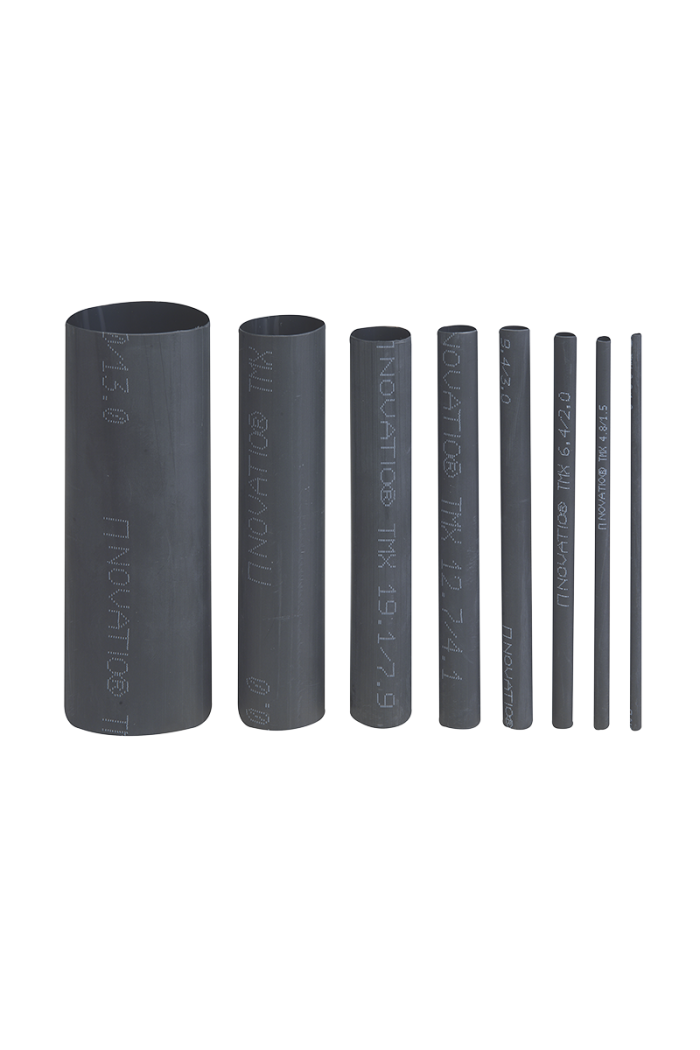 Packaging
806003000 - Thermoflux 2010 - 122cm - 3mm - 1mm - black
806004000 - Thermoflux 2010 - 122cm - 4,8mm - 1,6mm - black
806006000 - Thermoflux 2010 - 122cm - 6mm - 2mm - black
806009000 - Thermoflux 2010 - 122cm - 9mm - 3mm - black
806012000 - Thermoflux 2010 - 122cm - 12mm - 4mm - black
806018000 - Thermoflux 2010 - 122cm - 18mm - 6mm - black
806024000 - Thermoflux 2010 - 122cm - 24mm - 8mm - black
806039000 - Thermoflux 2010 - 122cm - 39mm - 13mm - black
Description
Thermoflux 2010 is a flexible, heat shrinkable dual wall tubing with an integrally bonded meltable adhesive inner lining, designed to provide permanent moisture proof encapsulation to a wide variety of substrates and uses. Thermoflux 2010 has a unique inner wall which melts when heated and is forced into the crevices and interstices by the shrinking of the outer wall. When cooled the entire mass becomes a flexible, tough homogeneous covering with a controlled wall thickness. Thermoflux 2010 is manufactured from radiation cross-linked polyolefins. Thermoflux 2010 shrinks to 1/3 of its supplied diameter and thus only a few sizes (8) are required to cover a full range of irregular shapes in a wide variety of applications.
Application
insulation and protection of wires and components
wire terminal protection
reinforcement of wire splits
prevention of electrolytic corrosion
insulation and protection of automotive electrical parts
protection of coaxial cable connectors
synthetic, fuel and hydraulic oil resistant applications
can be used on all electrical applications (cables - cables splycing - connections), to insulate, to protect and to seal. Can be used in contact with chemicals. Is not resistant to earth alcalines. Protects metal tubing against corrosion and wear.
Technical information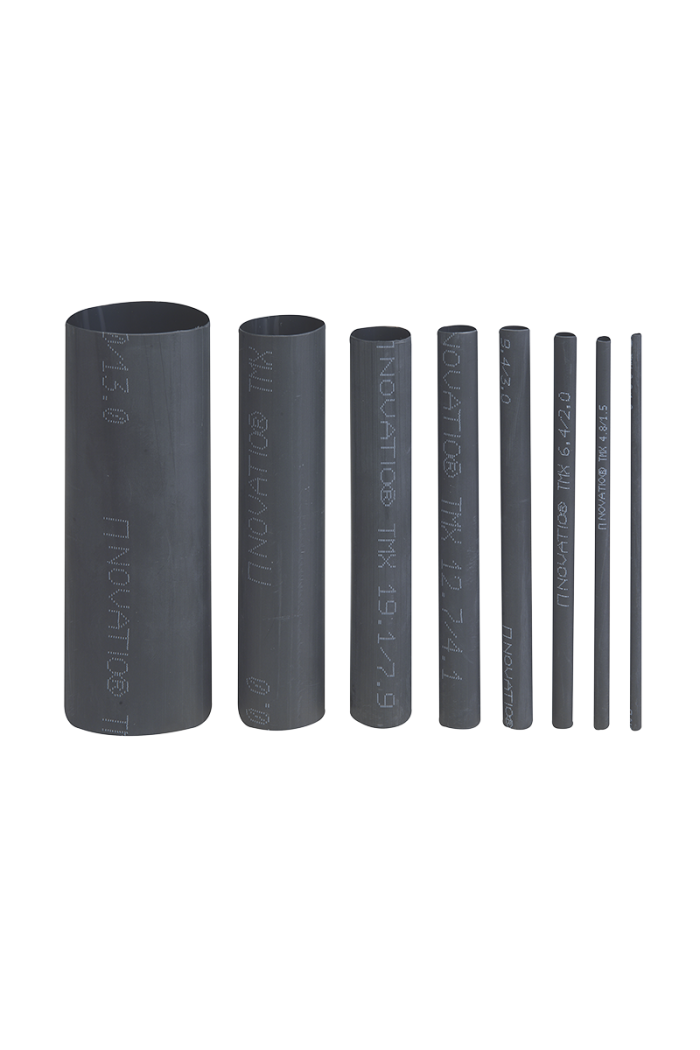 Thermoflux 2010
BLACK, DOUBLE WALLED SHRINK SLEEVE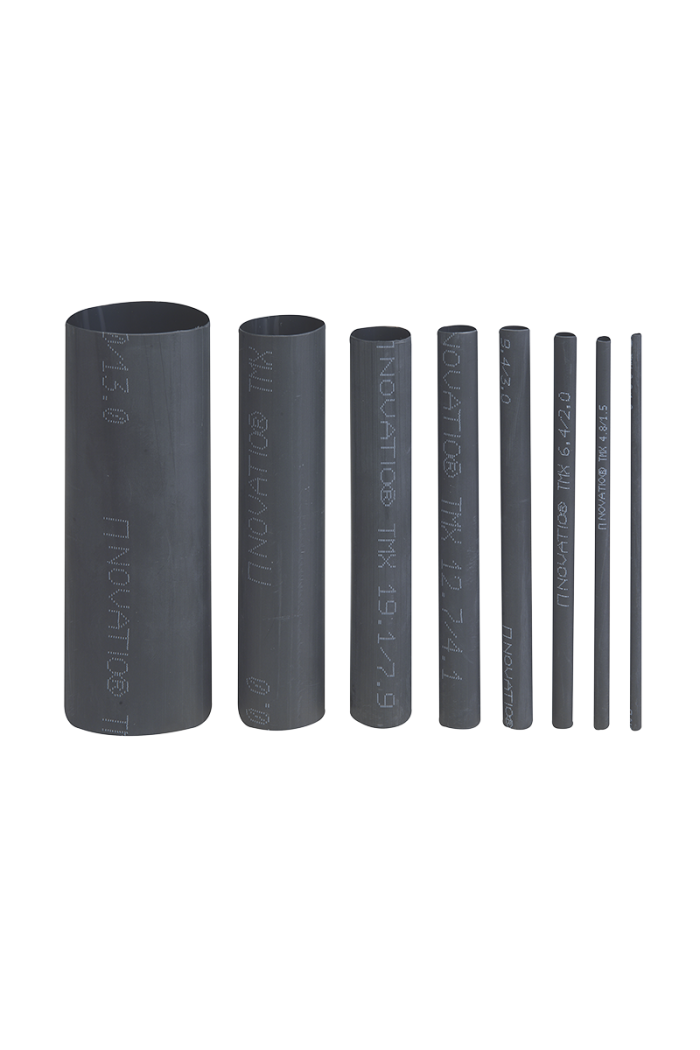 Operating temperature: -55 °C to +110°C.
Shrink temperature: >110°C.
Tensile strenght ASTM D 638: 11 N/mm².
Elongation at break ASTM D 638: 300%.
Water absorption ASTM D 570: ≤ 0.5%.
Specific gravity ASTM D 792: 1.45g/cm³.
Heat shock 4 hours at 250°C ASTM D 2671: no dripping, cracking or flowing. Heat aging 168 hours at 175°C ASTM D 638: elongation 250%.
Low temperature flexibility -55°C ASTM D 2671C: no cracking
Fungus resistance AMS-DTL-7444: no growth.
Chemical resistance AMS-DTL-23053/4C: good.
Copper corrosion ASTM D 2671 B: no corrosion.
Dielectric strenght ASTM D 2671: 15 kV/mm.
Volume resistivity ASTM D 257: 1014ohm cm.
Instructions
Choose the correct diameter.
Heat with Novaflame Multi Torch.
Press together with pliers if necessary.