HMS-210 Frame Sealant Trans
HYBRID MS POLYMER SEALANT
Colourless anti-corrosion.
Corner sealing of window and door profiles.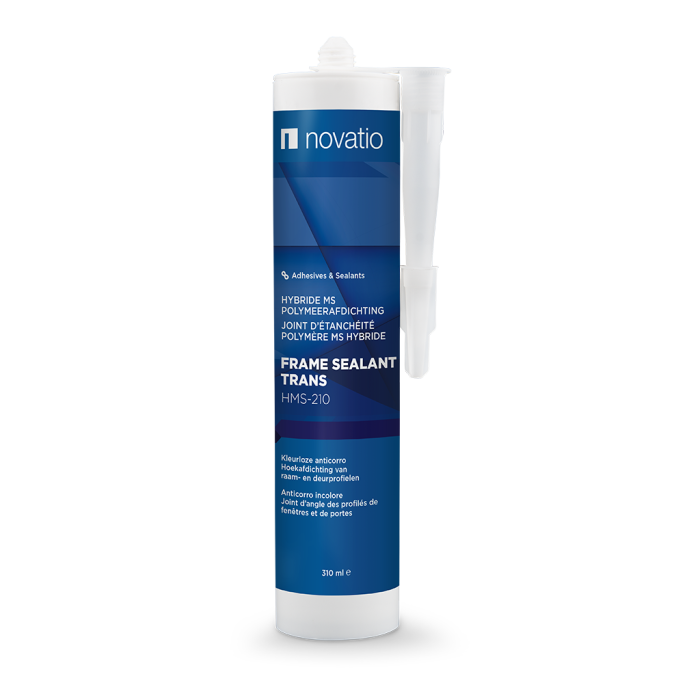 Packaging
533320116 - HMS-210 Frame Sealant Trans Ramen en Deuren - cartridge 310ml
Description
Free of isocyanates, Meko and other known toxic substances and is non-corrosive. Has excellent adhesion to aluminium and can be painted.
Application
Corner sealing of aluminium mitres.
Anti-corrosion treatment on saw cuts.
Technical information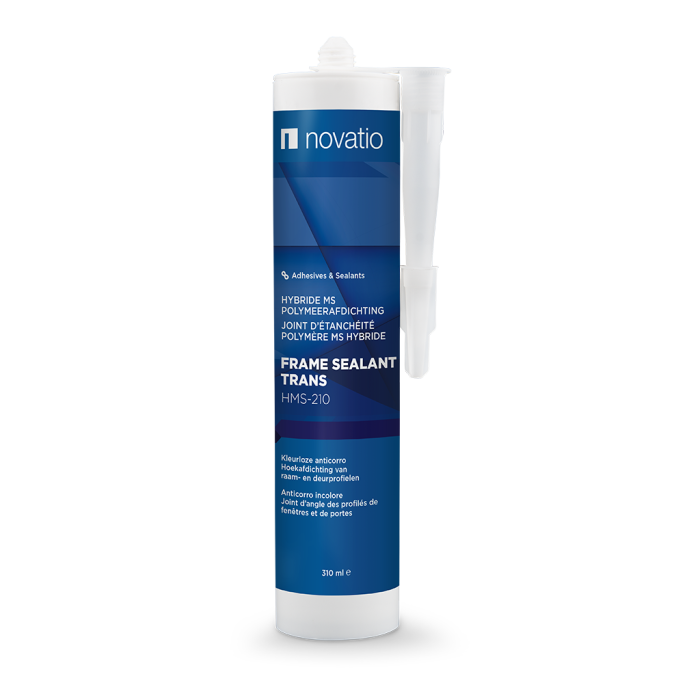 HMS-210 Frame Sealant Trans
HYBRID MS POLYMER SEALANT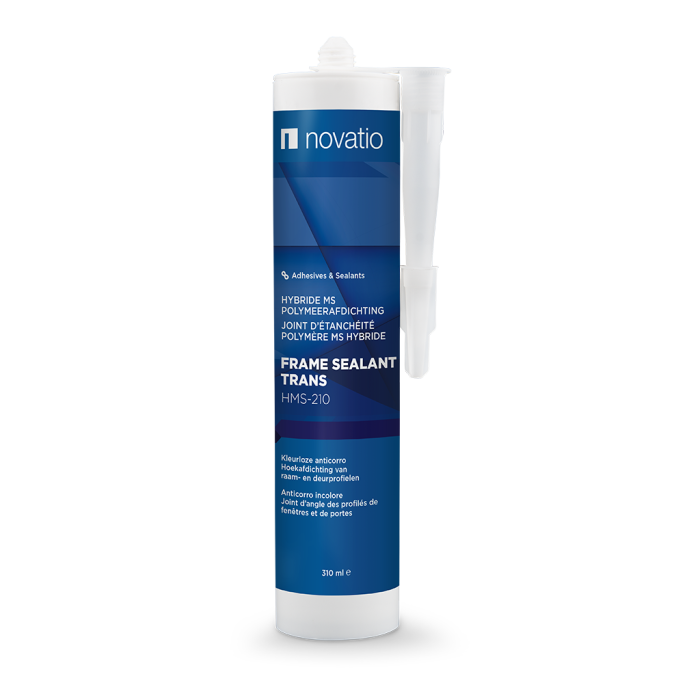 Basis: hybrid MS polymer.
Curing: polymerisation by air humidity.
Colour: milky white, opaque.
Odour: neutral.
Relative density: 1.05.
Skin formation at 23°C/50%R.H.: 15 minutes.
Hardening 24h: >2mm.
Shore A hardness (DIN 53505): 22.
E-modulus 100% elongation (DIN 53504 S2): +/- 0.8 N/mm².
Tensile strength (DIN 53504 S2): +/- 2 N/mm².
Elongation at break (DIN 53504 S2): +/- 250 %.
Movement capacity (ISO 11600): 20 %.
Application temperature: between +5°C and +40°C.
Can be painted: yes (alkyd resin based paints will cure late).
Temperature resistance after curing: from -40°C to +80°C.
Frost resistance: up to -20°C during transport.
Shelf life: 15 months, kept cool and dry in original packaging.
Safety measures: please consult the safety data sheet.
Instructions
Degrease saw cuts with Safety Clean and/or Multifoam.
Apply Frame Sealant on one side only, using a cartidge gun, a paint roller or a putty knife.
Place press corners, assemble and press together.
Remove excess product using Safety Clean.